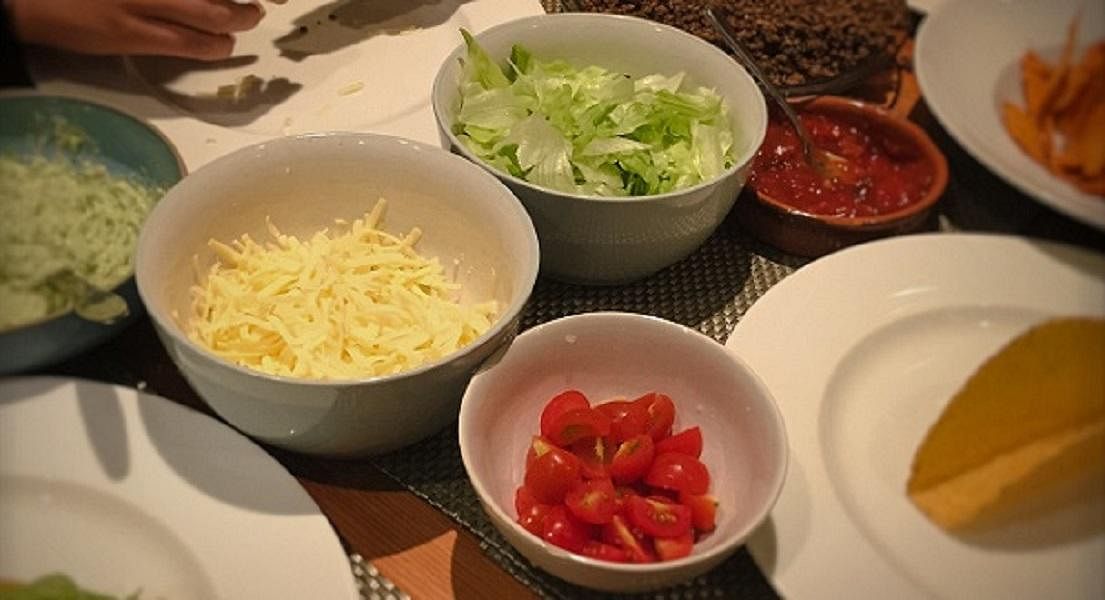 What do Nutritionists feed their kids?...featuring Luis & Jordi
Katherine Pardo - Head of Nutrition & Education

With two teenage boys, my kids are pretty much permanently "starving", so as well as trying to make sure they're getting plenty of nourishment at mealtimes, I have to make sure there's a constant supply of healthy snacks available so they're not filling up on bread, crisps and biscuits the whole time. I try and keep plenty of fruits, dried fruits, nuts and yoghurts available, as well as pitta bread and houmous or crackers with peanut butter, so they can snack on those. Nakd bars are a great alternative to biscuits for when they're wanting something sweet but they aren't the cheapest, and as the boys love to bake I try and do that with them when I can.
At mealtimes we do quite a lot of home-made "fast food" type meals – all made with fresh ingredients – so burger and spicy chips, tacos, pizza, hot dogs with caramelized onions, and spicy bean burritos all feature on a regular basis. Always served with some kind of veg, whether it's salad leaves, carrot and pepper sticks or a home-made slaw type thing. There are still certain veg that my kids refuse to eat – like whole tomatoes and avocados – which is an endless source of frustration, but I keep trying!! Hopefully one day.
Good ol' mac and cheese is still a favourite in our house and a pretty easy meal for when I'm feeling lazy. In fact almost any pasta dish is great when you're short of time. And the same goes for stir fries and noodles, which we have a lot. The key is making them taste good – so spending some time perfecting your stir fry sauces and marinades is well worth it in my opinion. My kids absolutely love strong flavours and spicy food, so I use a lot of chilli, ginger, garlic, lime, paprika, peanut butter and soy sauce to make things tasty. More traditional British fayre like roast dinners and pie and mash type meals are popular too – served with lashings of gravy of course. And we all love a good curry – occasionally we'll make our own, but more often than not we'll all sit down and enjoy a good take-away.
Weekends usually revolve around sporting activities, so mealtimes during the day become a little loose - breakfast tends to merge into lunch, so is generally either a bacon and egg butty or some variation of egg/beans/cheese on toast or a bagel with soup, and I'll usually try and get a smoothie down them at some point to try and keep their fruit & veg intake up.
This website and its content is copyright of Nutri Advanced ©. All rights reserved. See our terms & conditions for more detail.