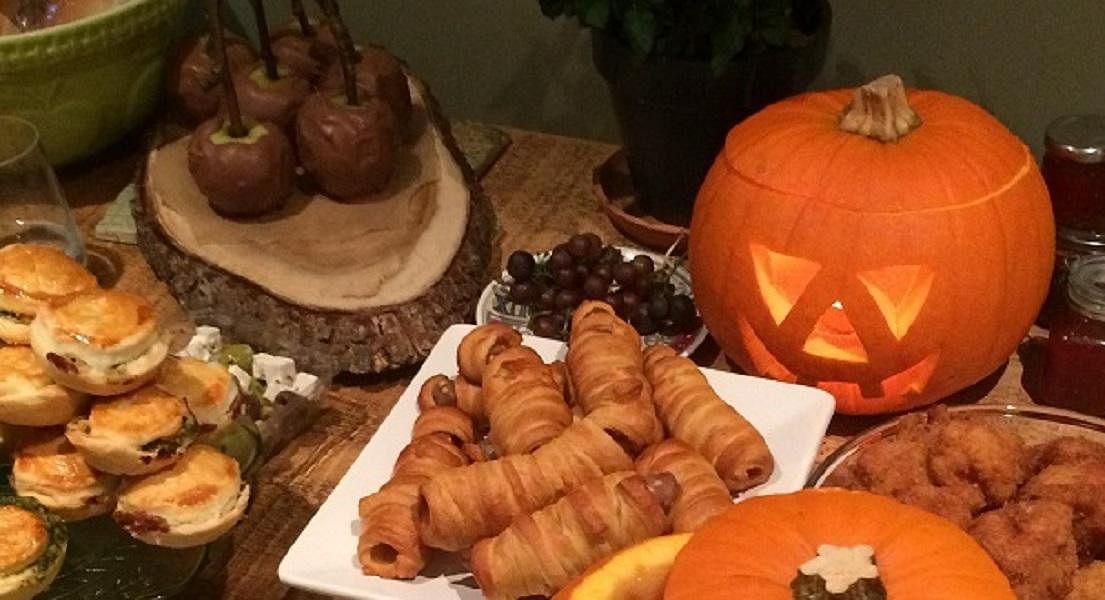 Spook-tacular Halloween Recipes
Here's our collection of Halloween-inspired recipes. Some are super nutritious, some aren't, but all are fun to make and delicious to eat! Any occasion, like Halloween, where food is used to bring friends and family together to share happy times is a great excuse to do something a bit different. Children especially will enjoy the excitement of food presented and served in a new way. And even the fussiest of eaters will struggle to ignore these creative ideas. We've had such fun testing out the recipes with families and hope you do too! Happy Halloween!
Laura's Ghoulish Green Rice
You will need (serves 4):
Approx. 250g basmati rice
Handful of spinach
Handful of coriander/parsley
½ onion, diced
1-2 cloves of garlic, crushed
1-2 tbsp olive oil
Approx. 300ml vegetable stock
Method:
Add the spinach, coriander/parsley, onion and garlic to a food processor and blitz, adding about a tablespoon of olive oil as you blitz. This should resemble a green puree. Heat about 1 tablespoon olive oil in a saucepan and add the green puree.
Cook for 1-2 minutes and then add the basmati rice. Stir to ensue rice is coated with the green puree and then add the vegetable stock. Bring to a boil, then reduce the heat to a low simmer and cover the pan. Let it simmer on the low heat for 15 minutes, or as long as the rice takes to cook.
This can then be served alongside sweet and sour pork with broccoli for extra 'blood and guts' or made up in to a year-round salad by adding diced courgette, pumpkin seeds, sunflower seeds and pine nuts.
Gemma's Halloween Buffet Treats
Sausage mummy dippers
You will need:
1 tbsp honey
1 tbsp ketchup
1 tsp mustard (I used Dijon), plus a little extra
12 chipolatas
1 tube of ready to roll croissant pastry
Method:
Heat oven to 200C/180C fan/gas 6 and brush 2 baking trays with a little oil. Mix the honey, ketchup and mustard together in a bowl, then brush over the chipolata sausages.
Unroll the croissant dough and divide into 3 rectangles. Pinch together the diagonal perforated seams, then cut into long thin strips – you should get about 16 per rectangle.
Wind the little croissant strips around the chipolatas, leaving a little gap at one end to make a slit for the eyes. Place on baking trays and bake for 20 mins. Cool a little, then, using the mustard, dot a pair of little yellow eyes on to each mummy. Serve warm with Halloween goo, see below:
Halloween Goo (dipping sauce)
You will need:
500g butternut squash chunks
1 onion, roughly chopped
2 garlic cloves, peeled
400g can of chopped tomatoes
1 tsp ground cumin
1 tsp ground coriander
2 tbsp chilli sauce (or to taste)
Salt and pepper
Method:
Bring a large pan of salted water to the boil, add the butternut squash, onion and garlic, then simmer until the squash and onion are tender.
Drain really well, then tip into a food processor or blender (I used a Nutri bullet) with the chopped tomatoes, spices, chilli sauce and some seasoning and whizz to a smooth purée (or put back in the saucepan and whizz with a stick-blender).
Serve in a hollowed out pumpkin.
Halloween / Bonfire night chocolate apples
You will need:
6 apples (I used smallish Cox apples)
6 sticks or twigs
200g chocolate
Method:
Push one twig into each apple.
Melt chocolate in a bowl over a pan of barely simmering water and once melted, used a spoon to coat each apple in chocolate.
Add toppings, if you like, e.g. crushed salted peanuts, or coconut flakes and then place on baking paper to set.
Sarah's Halloween Soup
You will need:
Approximately 1kg of pumpkin or squash flesh cut into chunks
1 onion, chopped
1-2 teaspoons of mild chilli powder or 1 teaspoon of chilli powder or flakes – depending on tastes. For younger palates adding honey or apple might give a sweeter taste.
4 tbsp olive oil
Fresh root ginger to taste but a cm is usually enough
1 litre vegetable stock
Salt and freshly ground black pepper to taste
Method:
Preheat the oven to 200C/180C Fan/Gas 6.
Place the pumpkin or squash into a large roasting tin and coat in half of the oil and season with salt and pepper, then roast in the oven for 40 minutes or so, until tender and golden.
Place the large, deep-sided saucepan over a medium heat, add the remaining oil and, when it is hot, add the onions and fry on a low heat until softened (5-10mins)
Add the chilli and ginger and fry for a further minute.
Pour in the stock and bring to the boil, then stir in the roasted squash.
Remove from the heat and blend the mixture with a hand blender until smooth. Taste and add salt and pepper to suit.
Serve in the scooped out body of your edible pumpkin/squash and draw on a scary face for a Halloween themed meal!
Tip! You can re-use the pumpkin bowls for casserole or stew.
Rachel's Halloween Snacks!
Mini apple monsters
You will need:
2 large red apples cut into segments (eighths work well)
Nut butter (I used peanut butter)
Mini white marshmallows
Method:
Slice the apples into eighths
Spread a layer of nut butter onto one side of each slice
Make the teeth by placing the mini marshmallows onto the layer of nut butter on half of the slices
Gently place the other apple slices on top of the marshmallows to make your mini apple monsters!
Easy Peasy Scary Eggs!
You will need:
Free range eggs
Black olives
Method:
Hard boil the eggs then once cool cool, peel and slice in half lengthways.
Decorate with black olives to make scary spider toppings!
Halloween Hummus
You will need:
1 x tin chickpeas (drained & rinsed)
3 tablespoons tahini
1 garlic clove (crushed)
1 tablespoon olive oil
Juice of 1/2 lemon
A little water or live yoghurt to mix if required
You can also add in some roasted peppers from a jar for a tasty variation
2 large red peppers
Sliced black olives
Method:
Put all ingredients (except orange peppers and olives) into a food processor or blender and whizz! (Add a little extra water or yoghurt to make it a little runnier if needed)
Place hummus onto a small platter style plate
Slice the top off the pepper and place into hummus with sliced side down
Make the spiders eyes with hummus and black olive slices (I used cocktail stticks to attach the eyes to the pepper)
Use the remaining pepper to make the spiders legs!
This website and its content is copyright of Nutri Advanced ©. All rights reserved. See our terms & conditions for more detail.